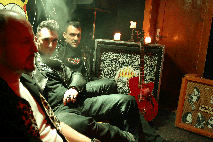 It was in autumn 1993 when Gernot took the western guitar of his father and drove to Holzi's house situated in the next village in the outskirts of Munich City. They both didn't knew each other very well, but Gernot was searching for a bass player to start a band together with vocalist Florian. They knew that Holzi owned a double bass - and after this spontaneous guitar & bass session Holzi joined them. Alex, a former classmate of Gernot did the drums and so the first Grave Stompers line up was completed. Inspired by classic horror and obscure rock'n'roll they started playing traditional old-school psychobilly. It took a few months and the Psycho quartet from Fürstenfeldbruck (Germany) supported lots of international bands on countless Festivals in Germany.
In 1997 they released their debut album "Rising from the darkside" featuring their new drummer Martin Sledgehammer. Just the first fotosession with the new line up caused big trouble for the band: equipped with skulls, bones and axes the guys went to the fotoshooting at a local cemetery and just when the work was finished and the band left the graveyard several armed policemen arrived at the scene. The Grave Stompers managed to escape but they got charged with grave violation. The case got dismissed after some witnesses got questioned and stated that they didn't felt threatened by the band... At that period of time the sound of the Grave Stompers became very hard and dark with metal influenced guitar riffing and fast drums+bass.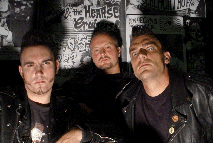 Two years later the Shouter left the band and guitarist Gernot did the vocals as well - first to hear on the 1999 release "Funeral Suite" on Crazy Love Rec. It was the band's aim to create an album on which EVERY song is connected to the dark, sick and morbid things in life. For this purpose even lyrics got changed: the first song ever written for the Grave Stompers was entitled "Summertime" (dated back to 1991) and was never released before because of it's groovy and positive vibes. Then lyrically rearranged and sung in a different way it turned into "Haunted House" and found it's way on this record.
The Grave Stompers now known as a trio played several Headliner Shows in Europe and went on a small tour in Italy - but the following years the boys didn´t went too much on stage. They released a limited and now pretty rare split 7" with garage friends "Pot Belly"(2000) and wrote new material for their follow up album: the sixteen song opus "Bone Sweet Bone" (Crazy Love Rec. 2003) . On this one the band went back to their roots: twangy guitars, fast double bass, jackhammer beat and smart vocals with tons of delay - traditional Vintage Psychobilly! In the following years the Stompers played concerts in countries such as France, Italy, Austria and Russia.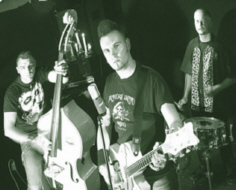 The fact that the band now exists more than 13 years spawned the idea to produce a so-called "Anniversary seven inch" containing re-recordings of former songs. So in 2007 the band recorded Midnight SickSickSix/Halloween in Haddonfield and I am the Necromancer (this one got hardly any live performance so it was a good chance to put it on this record). A fourth song was recorded exclusively for this 7": Munich after Midnight! It's a tribute to the early b/w horrormovie classics as well as to the hometown of the band. In March 2008 the anniversary 7" was released under the title "
Oldschool Deluxe
" and is limited to 500 copies in white vinyl. Orders can be made
here
.
In the same year also was released the next album "Spooked, Cursed & Haunted" and then seven years later the actual last album was released in 2015.
Line up: Gernot-guitar + vocals
Holzi- double bass + backing vocals
Martin-drums
Disco:
1997 Rising From The Darkside (CD)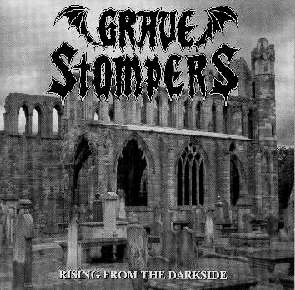 1999 Funeral Suite (CD)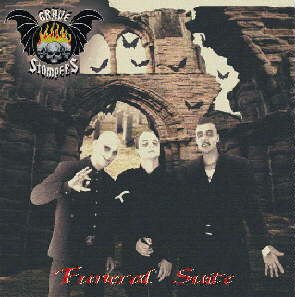 2000 Split Single (with Pot Belly)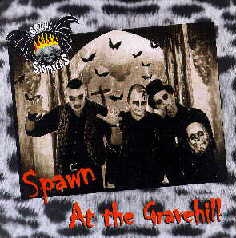 2003 Bone Sweet Bone (CD)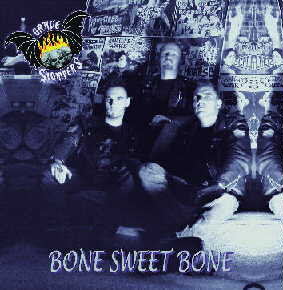 2008 Single "Oldschool Deluxe"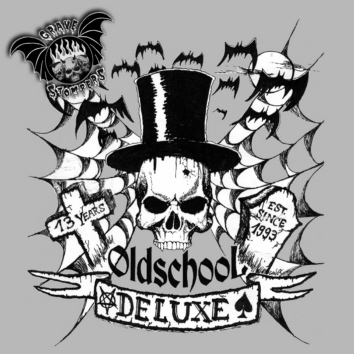 2008 Spooked, Cursed & Haunted CD (CD)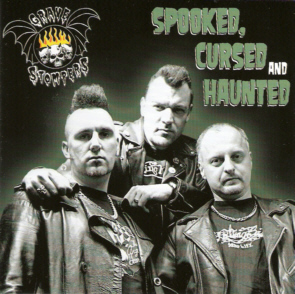 2015 Black Leather Ghouls from Fiendsville (CD)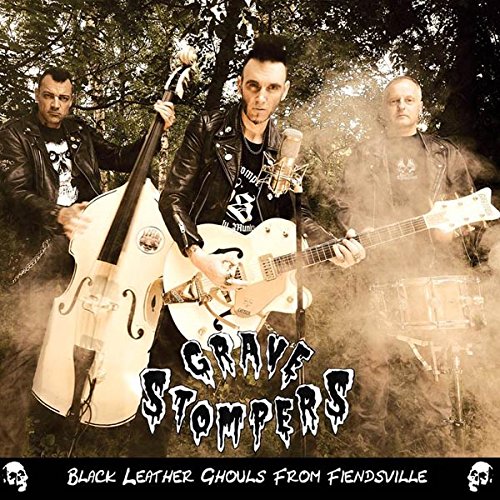 2022 Hits From The Grave (LP)